Food, Beer and Wine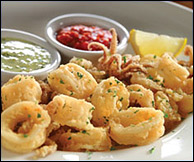 Crowd favorites include calamari fritti and arancini. This year the squid was caught and processed locally. Special thanks to Captain Tom Noto (f/v Lady J) and Captain Frank Aliotti (f/v El Dorado) all local squid fishermen who donated a portion of their catch for this years celebration. Also special thanks to Joseph Capuccio and Joseph Roggio of Del Mar Seafoods for their help in processing the squid for this year's calamari fritti.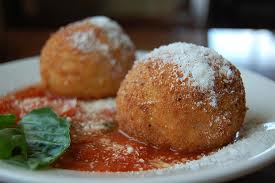 Arancini are rice balls, stuffed with sauce, meat, and cheese rolled in bread crumbs then deep fried to a crispy golden brown. They were introduced to our festival in 2008 and have been selling out every year since. They are made fresh for the festival by our own volunteers.
Other crowd pleaser include steak sandwiches, sausage sandwiches, eggplant sandwiches, and pizza. And of course what would an Italian festival be without pasta and meatballs. Pasta sauce is made fresh and pasta is cooked on site and served hot to satisfy.

Desserts include cannolis with fresh ricotta filling and ice cream.
Visit the Beer and Wine booth for a glass of wine from local vineyards or an ice cold Birra Moretti.