Grand Marshall
2016 Grand Marshal—Anthony Russo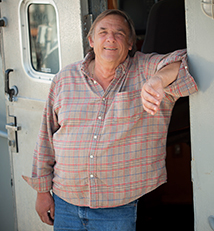 Anthony came from a long line of commercial fisherman. He purchased and fished the Mary R in 1973 while working at Mission Linen. Dreaming of becoming a commercial fisherman like his Dad, Joe Russo and Grandfather, Antonio Russo, he quit Mission Linen and purchased the St. George in 1976 and fished squid with it until 1986. After selling the St. George he fished the Sea Diamond for one year while he and Sal Tringali built the 78' Sea Wave in 1987. He fished it up and down the west coast for squid. In 1999 he, Sal Tringali and Monterey Fish Company built the 88' King Philip and he has captained it since, while his brother, Andrew Russo, has taken over the Sea Wave.
Anthony has also been going to Alaska to fish sockeye salmon during the summers since 1964. First fishing with his father Joe Russo, then with his Uncle Louie Grillo. In 1979 he built the 32' New Alaskan and has fished it in the Alaskan waters every summer since.
Anthony has two children, Joe Russo and Cristi Giammanco. He has been blessed with 8 grandchildren and just recently a great grandson. He's lived his dream of being a commercial fisherman and plans to continue to do so as long as he can.
Past Grand Marshalls
2016 - Anthony Russo
2015 - Ed Leonard
2014 - John Cardinale
2013 - Vito Spadaro
2012 - Joseph Aliotti
2011 - Anthony "Nino" Campo
2010 - Tom DiMaggio
2009 - Joe Davi
2008 - Mario Lucido
2007 - Peter Arancio
2006 - Thomas Aliotti
2005 - Vincent Belleci