Grand Marshall
2017 Grand Marshall—Jack Flores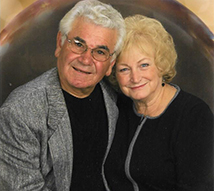 Jack Flores was born on August 4, 1935 to Antonio and Maria Flores in the small fishing town of San Vito Lo Capo, Sicily. Being one of eight children Jack starting working on his father's fishing boats at a very young age. He and his brothers Joe, Jerry and Sal became skilled fisherman to help provide for the family while sisters Giacoma, Katerina, Elisabetta and Marianne helped their mother at home.

Seeing that the fishing industry was dying Antonio Flores sent his three oldest sons off to Canada where his oldest sister Giacoma had settled with her husband, to start a new life in a country where they could have a future. Joe and Jerry left right away, but ironing out problems with the military prevented Jack from leaving at that time. Once the problem was resolved, at the young age of 18 years old, Jack traveled to Canada alone.

He shares remembering arriving in Halifax. It was foggy and no one spoke his language. He felt very alone and homesick already. However, his world brightened a lot once he met up with his brothers, his sister and her family. Jack lived in Canada for eight years doing what he knew best, fishing. Jack bought a fishing license and his brother-in-law Diego Barraco bought a boat. They became partners on the "San Vito Lo Capo" vessel and fished Lake Erie, one of the great lakes out of Leamington, Ontario Canada. The rest of Jack's family, with the exception of Katerina joined Jack and his brothers in Canada. Katerina went on to become a nun with the "The Scared Heart" order in Sicily.

In 1961, Jack, Jerry and their mother, Maria, took a trip to Monterey California to visit her brother "Uncle Red". Being by the ocean again, Jack and Jerry both fell in love with Monterey and vowed to return. Upon returning to Monterey in 1963 Uncle Red took Jack under his wing. Though Jack fished for a while in Monterey and for several years in San Francisco, going to Alaska to fish for Salmon with Uncle Red really became Jack's passion. A Passion he continued for 42 years. While fishing in Alaska Jack became captain of his own boats, the Anna A., the Santa Rosalia and the Orea. He also took over the job of "Net Boss" when Uncle Red retired. A job he had with the cannery "Red Salmon" until his retirement.

But he needed a job in Monterey. After all, he had married and was starting a family. Working three months out of the year in Alaska would not support a family. Jack happened to stop by a carpet shop to purchase a piece of linoleum. While there he inquired about work. By the time he got home, Jack's wife told him the carpet shop had called and he could start work tomorrow. This began another life long career for Jack. He learned the trade and eventually started his own business which he continued until retiring in 2012.

Jack is married to Alice and has two children from a previous marriage. Anthony and Maria (Peter) Totaan and two grandchildren, Sage Flores and Savannah Totaan. Jack is also a step father to Alice's two children, Tim Redd and Diana (Brandon) Hipol and eight additional grandchildren. Krystin and Alyssa Redd, Dylan, Samantha, Joseph, Hunter, Nicholas and Allison Hipol.

Jack has truly enjoyed participating in the Festa Italia events and wants to thank the President, Buster Crivello, and the board of directors for choosing him as this year's Grand Marshall.
Past Grand Marshalls
2017 - Jack Flores
2016 - Anthony Russo
2015 - Ed Leonard
2014 - John Cardinale
2013 - Vito Spadaro
2012 - Joseph Aliotti
2011 - Anthony "Nino" Campo
2010 - Tom DiMaggio
2009 - Joe Davi
2008 - Mario Lucido
2007 - Peter Arancio
2006 - Thomas Aliotti
2005 - Vincent Belleci