Bocce Tournament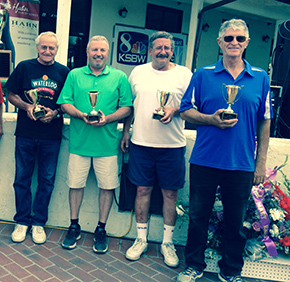 One of the biggest draws to the Fishermans' Festival is the Bocce Tournament. Each year teams travel from far away to compete for cash prizes and bragging rights.
There is an entrance fee per team, which includes breakfast and lunch. There is a 32 team maximum and teams are accepted on a first come first serve basis. Teams will be matched at random.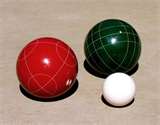 Your team must be able to play any time on Saturday and Sunday. Once your team is confirmed, you will be sent tournament rules. We encourage all Bocce enthusiasts young and old to participate. Have fun cheering on your favorite team, or learning rules and strategies at this exciting event.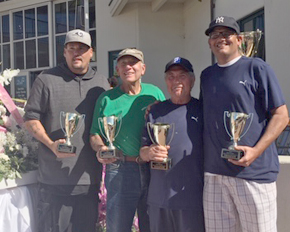 2018 Bocce Tournament 1st Place Winners:
Old Fisherman's Grotto
Rick Dyne, Dave Canclini, Carlo Pappalardo, John Dyne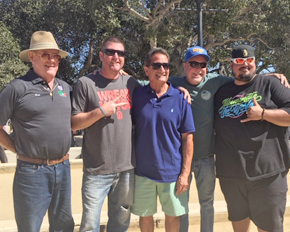 2018 Bocce Tournament 2nd Place Winners:
Bi Rite Market
Rick Wagstaff, Will Kessler, John La Sala (Bi Rite Market), Scott Hickman, John Lopez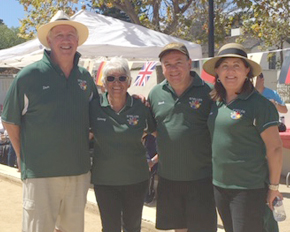 2018 Bocce Tournament 3rd Place Winners:
E Waste Direct
Don Brocca, Ginney Nelson, Mark Baeta, Kathy Brocca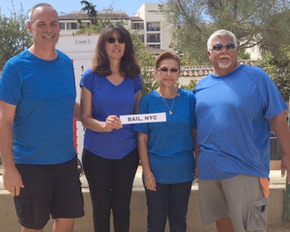 2018 Bocce Tournament 4th Place Winners:
Bail NYC
Jeramy Ward, Martha Crozley, Lydia Romo, Willy Lopez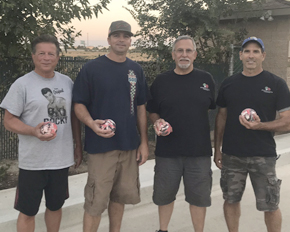 2018 Bocce Tournament 5th Place Winners:
The Dante Club of Fresno
Pat Marcheses, Jr., Anthony Astone, Steve Pelligrini, Anthony Donato
For more information on sponsoring a team CLICK HERE
For more information on entering a team CLICK HERE
If you have any questions please contact Jeanette Mazzarino at jeanette.mazzarino@gmail.com
Past Winners
2017 – Palermo Bakery
Gaspare Aliotti, Ben Campbell, Giovanni Napoli, Paolo Pro and Diane Kelly
2016 – Old Fisherman's Grotto
Rick Dine, Capo Carlo Pappalardo, Steve Castellano, John Dine
2015 – Cibo Restorante
Albert Leonardi, Bob Kennedy, Norm Freschet, Tony Randazzo
2014 – Cibo Restorante
Tracy Binetti, Anthony Favalora, Joe Malfitano, Al Peranio
2013 – Hahn Winery
Ginny Nelson, Marl Baeta, Kathy Brocca, Don Brocca
2012 – Colton Inn
Denny Kinsel, Manny Romo, Mike Rodriguez, Joe Romanm, Lou Grillo
2011 – Dr. Anthony Shaheen
Ron Jacobs, Alberico Leonardi, Tony Randazzo, Norm Frechet
2010 – Campo di Bocce, Los Gatos
Ben Musolf, Rick Taormina, Paolo Pao, Rolando Negrin
2009 – Palermo Bakery
John Napoli, Tony Randazzo, Ben Nicosia, David Canclini
2008 – Garden Health & Fitness
Toni Nicholas, Don Nicholas, Toni Sino, Ed Nicholas, Bev Wright
2007 – Colton Inn
Jim Collins, Anthony Campo, Alfredo Herrera, Rosolino Ravanzini
2006 – Ansberry Corporation
Carlo Pappalardo, Gloria Taylor, Alfredo Herrera, John Dine, Giovanni Napoli
2005 – Rabbobank
Gene Buerer, Ben Musolf, Rick Taormina, Paolo Pro
2004 – Gianni's Pizza
Carlo Pappalardo, Gloria Taylor, Anthony Campo, John Dine, Giovanni Napoli
2003 – Margie's Diner
Gianfranco Pedrini, Dave Canclini, Albert Leonardi, Luca Fontana
2002 – Victory Toyota
Gianfranco Pedrini, Dave Canclini, Albert Leonardi, Luca Fontana
2001 – Monterey Bay Urgent Care
Toni Nicholas, Tony Costanza, Toni Sino, Bev Wright
2000 – Rancho Canada
Denny Kinsel, Joe Roman, Manny Romo, Mike Rodrigues